I've used Auger's Plumbing several times now and I can't say enough good about them -- we really appreciate their professionalism. They are always prompt; have never left a mess. They didn't balk even at an unusual project last year (cleaning out a clogged yard drain and installing a box so we could get to the problem spot and keep it cleaned out ourselves. They've replaced a broken garbage disposal, and most recently, installed the rough valve in shower remodel, and came back to fix the really bad pressure because the trim kit was not installed properly. They are super to work with! Highly recommend them!!
What an amazing company called them out for what seemed like a simple pipe repair for a well pump. They had extremely professional team member come to make repairs. The system worked great but then malfunctioned. Augers plumbing went out of their way to call a Well professional to handle the situation. They attempted to make all things right but most importantly they just wanted to resolve my issue to give me water. What a great family company. Totally Recommend!!!
When another company wanted to charge me hundreds, I called for a second opinion and Nicole provided me great insight. They were able to come out sooner than expected and assure me that the methods the other company wanted to do was unnecessary. I really appreciate the customer service provided and the professionalism of the plumbers Danae and Anthony. They addressed my concerns and took their time to answer questions. Prices for labor were extremely reasonable. Auger's will now be "our" plumber going forward.
Auger's came very highly recommended to us by a friend. They not only lived up to that recommendation they exceeded it. We had the absolutely best experience with them and will definitely use them again. Gave us a good quote and did the work and then some. Thank you Augers for going above and beyond with service and professionalism. We are very happy with you!
I can't say enough good things about Auger's Plumbing service. We've had them out to our home several times for various issues and every time they do a fantastic job. Professional, prompt, courteous and fair pricing. Auger's is our go-to plumbing service. Highly recommend.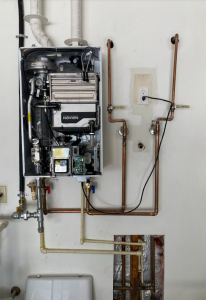 Importance of Professional Water Heater Installation & Replacement
Choosing the right water heater for your home has become substantially more complicated in recent years. You have traditional and tankless water heater systems, gas and electric varieties, and even hybrid water heaters options. The array of options means that there's a water heater for practically every need and home. It can also mean that choosing the right one when it's time for a new water heater can be challenging.
Know your water heater options
Standard electric tanks
Propane and natural gas tanks
Hybrid tanks
Tankless 
What is a Hybrid Tank?
Hybrid water heaters use heat from the surrounding air to heat your water. This minimizes operating costs and maximizes savings
Hybrid heaters can reduce water heating costs by up to 73%
What is a tankless water heater?
A tankless water heater is a type of water heater that doesn't use a storage tank to heat water. Instead, hot water is produced only when you need it. Tankless water heaters are smaller and more efficient than traditional water heaters.
Non-condensing tankless water heaters deliver a continuous flow of hot water for as long as you need it. No waiting for a tank to reheat more water, wasting time and energy.